Swansea Porcelain Veneers (Lumineers®)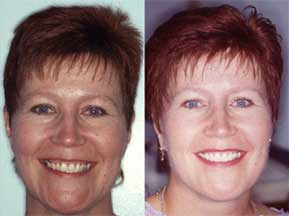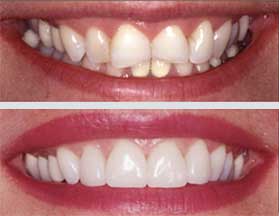 "I have been a patient of Dr. Sefranek for 11 years. We have done much work together and I have been happy with all of it. I love my new smile. If I had know it would look this good, I would have done it much earlier." A. R.
Porcelain veneers can dramatically makeover an entire smile and are dentisry's solution to worn, mishapen,or discolored teeth. Veneers are made of porcelain and fit over the outside of your tooth much like "Press-on" nails. Veneers can be used to cover tooth imperfections. They are a long lasting solution to problems of tooth color, shape, and positioning.

Veneers can be used to repair broken teeth. This young lady had a fall while on a cruise.

Veneers can be used to change the color of teeth. This patient was given tetracycline (an antibiotic) during childhood which resulted in these dark stains deep inside her teeth. In this case, bleaching alone was not enough to lighten her teeth.